REINVENTING THE STEEL: 20th ANNIVERSARY EDITION 2LP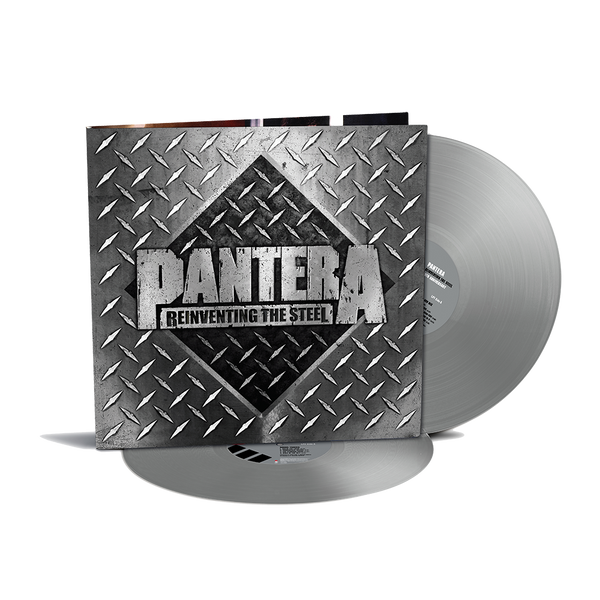 REINVENTING THE STEEL: 20th ANNIVERSARY EDITION 2LP
---
Release Date: 15th January 2021
Pantera's final opus, Reinventing The Steel, represented a recommitment to everything the band loved about heavy metal. Released in 2000 at the peak of nu-metal's popularity, the album's back-to-basics approach flew in the face of the trend and served as a potent reminder of the enduring power of primal metal. Pantera's swan song turns 20 this year and will be celebrated with two new versions that feature an unreleased mix of the album by longtime producer Terry Date.

REINVENTING THE STEEL: 20th ANNIVERSARY EDITION will also be released as a double-LP set that features the new Terry Date mix on one album, plus eight rare bonus tracks making their vinyl debut on the other. The 180-gram audiophile vinyl collection will be available on January 8.

LP One: New Terry Date Mix
Side One
1. "Hellbound"
2. "Goddamn Electric"
3. "Yesterday Don't Mean Shit"
4. "You've Got To Belong To It"
5. "Revolution Is My Name"

Side Two
1. "Death Rattle"
2. "We'll Grind That Axe For A Long Time"
3. "Uplift"
4. "It Makes Them Disappear"
5. "I'll Cast A Shadow"

LP Two: Bonus Tracks
Side One
1. "Avoid The Light"
2. "Immortally Insane"
3. "Cat Scratch Fever"
4. "Hole In The Sky"

Side Two
1. "Electric Funeral"
2. "Goddamn Electric" – Radio Mix
3. "Revolution Is My Name" – Radio Edit
4. "I'll Cast A Shadow" – Radio Edit

* previously unreleased

This is a pre-order and will be dispatched in line with the release date. Orders are not part shipped so if you wish to order other items with a different release date we recommend placing a separate order.